A Better Life Starts With a Better Business
Do you nearly break out in hives when the pricing conversation comes up with prospective clients? Are you tired of being stuck and feeling like you can't scale your business to the next level? Do you have a full practice, but feel overwhelmed by the number (and quality) of clients, and completely out of balance with the rest of your life and goals for the future?
Join the Financial Confidence Mastermind! This 6-week program was developed especially for female business owners to ensure your business operates profitably and to help you reach your ideal clientele. The Mastermind will empower you to take a comprehensive look at the financial health of your business and guide you in creating impactful change so you can finally earn what you deserve and create a lifestyle business that supports you.
It all starts with changing your mindset about your business finances and what you are allowed to have. So my question is: Are you ready to make real change in your business?
HOW IT WORKS
The Financial Confidence Mastermind is an exclusive group of up to 20 energized, international, ambitious, like-minded women business owners from different industries and backgrounds. In addition to the specific outcomes I'll help you identify as part of your big business vision, we will also work together to:
Expand and clarify the vision for your business for the next 3-5 years
Simplify financial statements and leverage them to help you grow and make strategic decisions
Create new pricing and packages to attract your ideal clients
Work through shifts in your money mindset and build your confidence, within a supportive group setting
How do we accomplish this? Through a unique alchemy of individual and group work that includes:
Weekly, 90-minute live video calls with your Mastermind
Individual guidance during the group calls
Exercises and brainstorming sessions during the call and on your own time
Opportunities to share your questions live and have them answered by me
Weekly accountability for the actions you commit to taking in your business: baby steps or massive action, it's your call
Exclusive access to our private Mastermind Facebook group where you'll find unparalleled support and accountability partners
Hello…my name is Vera Anderson and I will be your guide, cheerleader and accountability partner on this journey.
I've taken my success in the Private Equity world and from coaching CEOs of mid-sized companies, fulfilling my passion of helping other female business owners raise their rates and feel amazing about it. This is not your typical "classroom" experience. We're going to dive into your dreams, your fears and your money blocks, and start taking real, measurable action, right away. By the time 6 weeks are up, you with think and act like the CEO of your business.
Do the Math
What are you worth? When you do the math, you can be empowered by the numbers. That's one of the greatest benefits of the Financial Confidence Mastermind. With this program, you can begin to charge with a profit margin to create reserves and give yourself room to grow your business and get support.
This Mastermind is the perfect opportunity to jumpstart change in your life. If you're tired of fighting to prove your worth, struggling to make your business profitable, and you're ready to have the disposable income you deserve -- and you are ready to start making changes right now... Today...
Let's work together on your business and mindset to put you on the path of success in just 6 weeks!
"Since joining the Financial Confidence Mastermind, I have been able to visualize a life of abundance, and to confidently build a roadmap to achieve it. The tools I have been given to make actionable change in my business and life will continue to serve me for years to come. The direction from Vera and safe space of the community with other women made it possible for me to learn through doing and listening. I only wish I would have done this sooner!"
- Brittany Ward, Founder & CEO of a Marketing Whisperer
"The Financial Confidence Mastermind helped me take charge of some big dreams for my business and develop financial structures for them to become a clear reality."- Leyla Salvade, Founder & CEO of Standing Light
Registration Is OPEN
Join other coaches, artists and lifestyle business owners as we dive deep into your business challenges, explore new opportunities for growth and expand your profit margins like never before. Schedule a complimentary call with Vera and to find out what the Financial Confidence Mastermind can do for your business.
Registration is closing on Friday, August 31, 2018 and weekly calls start on Wednesday, September 5, 2018.
Only 20 participants will be accepted into the Fall 2018.
If you are ready to make a change, schedule a call today and let's talk about the next steps for your business.
download your copy of THE financial confidence E-BOOK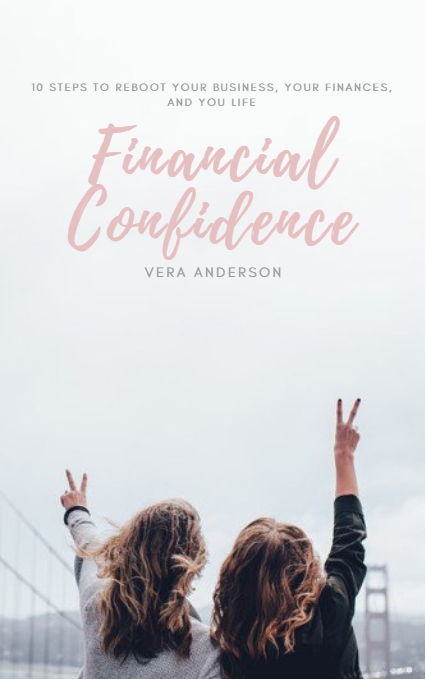 Built on the concepts taught in depth in the Financial Confidence Mastermind, the Financial Confidence eBook takes you through 10 important, actionable steps to start you on the path to achieving full financial confidence, and building the business and life of your dreams!